Poster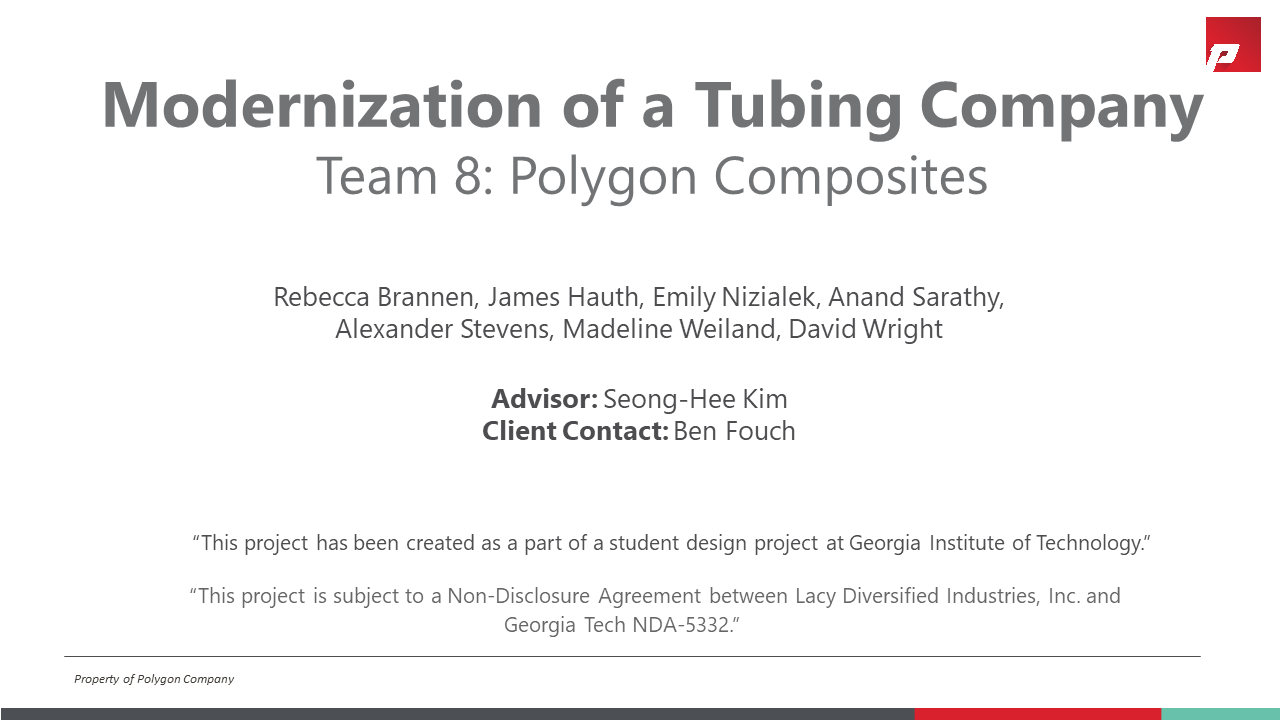 Client Context
Polygon Company of Walkerton, Indiana, designs and creates specialized composite tubes for a variety of applications. Although Polygon consists of five divisions, the Advanced Tubing division is the company's most immediate concern and the focus of the project. The Advanced Tubing division, consisting of tubes 6" or larger in diameter, recently experienced an unanticipated surge of orders that the production schedule and labor force could not accommodate. This event forced Polygon to end relationships with many lower-volume customers and generated concern since Polygon's marketing experts project this division to be the largest area of forecasted growth in Polygon's five-year plan. The Advanced Tubing division has the opportunity to increase capacity to handle greater order volumes without capital investments by more efficiently utilizing current equipment and labor.
Project Objective
Polygon had two primary obstacles to increasing efficiency: a lack of automated processes and data to understand its own system. During production, no real-time data is tracked as each portion is completed, leaving capacity to be estimated by management. An opportunity exists to discover bottlenecks in the current process by data-driven capacity evaluation. In addition, each week employees manually create a schedule that could be auto-generated. Another opportunity to decrease overall manufacturing time is considering more constraints that impact process time when sequencing jobs.
Design Strategy
The solution involves two main deliverables-- a simulation and a sequencing tool-- encompassing two goals: understanding maximized capacity and improving current capacity. The simulation evaluates the true capacity of the current system with pre-existing equipment and labor resources, determining utilization and bottlenecks. Similar production times for historical orders times and job lengths determined by the simulation model allow model validation. In addition, a more automated sequencing tool improves the current throughput potential by releasing a schedule of jobs that considers resin waste, resin changeover time, and machine utilization in addition to due date. A robustness test ensures that the sequence provides a reliable job release order despite stochastic processing times. This tool also saves manual creation time. Running the sequencing tool output through the simulation model allows calculation of expected finish time and saved production hours.
Deliverables
The deliverables have been prepared to smoothly transfer to management for long-term use. They create more standardized processes and allow greater understanding of the system based on data rather than non-transferrable employee experience. A user guide outlining instructions to adapt the sequencing tool code allows Polygon to apply the tool to a changing factory floor as well as other divisions within the company. The sequencing tool outputs the code to an Excel spreadsheet that resembles the schedule employees currently use. In addition, Polygon may adapt and utilize the simulation in the other four company divisions with the accompanying instructions. Additionally, a summary of the time study and recommendations on improving system bottlenecks allow the company to initiate its own improvement projects with issues highlighted from this project.
Value and Impact
Automating the production sequencing process results in a schedule creation time savings of 90%, translating to $4,575. In addition, forming a process that considers critical constraints without requiring an employee's knowledge adds unquantifiable value. The sequencing tool saves $68,580 in resin waste and recoups 254 production hours annually by reducing required resin changes in setups, equating to $88,677 annually. Decreased setups limit human interaction with resin chemicals that can irritate the skin and provide a positive environmental externality in reduction of waste deposits. Additionally, the simulation provides intrinsic value in helping the company make data-driven decisions through capturing data points to support improvement projects. The quantifiable components for the Advanced Tubing division total to $161,832. Application to other divisions would yield an overall value of $809,160.